In November 2019, MyJustice organised the Everyday Justice exhibition of artwork, films and stories on what justice means and the role everyone has in shaping it. The exhibition took place in the Old Tourist Burma building situated opposite the high courts in the heart of Yangon's legal district.
MyJustice research shows that people view their relationship with the state as being passive, where they are subject to the authority of the state, rather than having a more empowered role where they can hold the government to account or exercise rights as citizens. The programme believes in the power of popular and alternative culture to promote discussion on justice in Myanmar and bring in different people to discuss the scope of the challenge as well as possible solutions. 
For the justice system to become truly responsive to people's needs requires several connected things: justice institutions and actors need to respond to people's needs: people themselves need to feel able to claim their rights; people must be able to identify injustice and seek redress and believe that an alternative to current practice is possible. To change the way people engage with the justice system and actors, alternatives to the current norms have to be explored.
Filmmakers, writers and artists are able to offer fresh perspectives and ways of talking about and representing complex issues such as justice. They are often at the centre of questioning norms and suggesting alternatives.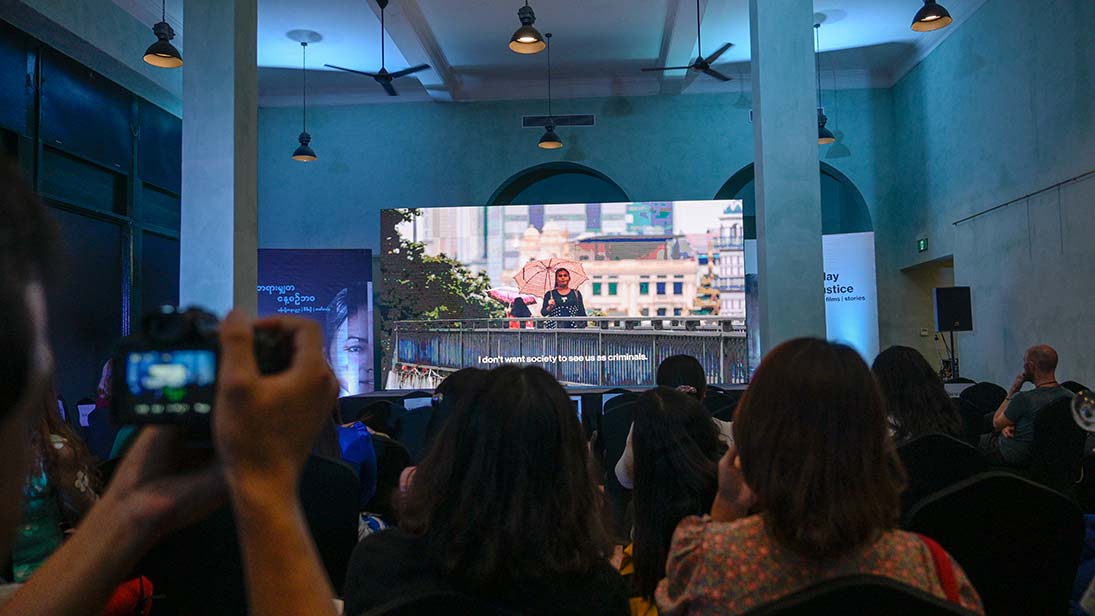 To this end MyJustice brought in Myanm/Art to curate a selected group of Myanmar artists to produce a series of artistic outputs that explore interpretations of justice in Myanmar today. Bridge supported both in exhibition design and in producing film and animated storytelling pieces.
The exhibition saw over 3000 members of the public visit over 2 weeks, including government representatives, legal professionals, paralegals, famous faces, students and some of the inspiring contributors to the MyJustice programme.
It was covered in 95 press outlets, with articles in the Myanmar Times, Eleven, Irrawaddy, Mizzima and The Voice, and broadcast media including MRTV, Kamayut and YTV. Out-of-home display on the building itself was seen by over a hundred thousand passers by around Sule Pagoda and Mahabandoola Park.
An installation by Kachin artist Ko Z took on murder and violent acts against women that are not brought to justice. Mirrors on the bodies of the women reflected back at us, to ask in the caption: 'what if it were you or your family? What would you do?'
Brang Li, an artists from Myitkyina who has also exhibited in London and Hong Kong, showed a model of an IDP camp surrounded by a cage of barbed wire showed dilapidated houses made from salt and jade resources.
Htein Lin's installation combined two works, one dealing with his own experience in 1998 of being falsely accused and then tried in Insein Special Court. He demanded justice, but the court recorded his case as something else. In the other, visitors are invited to walk on the precipice of jail, as many others still do.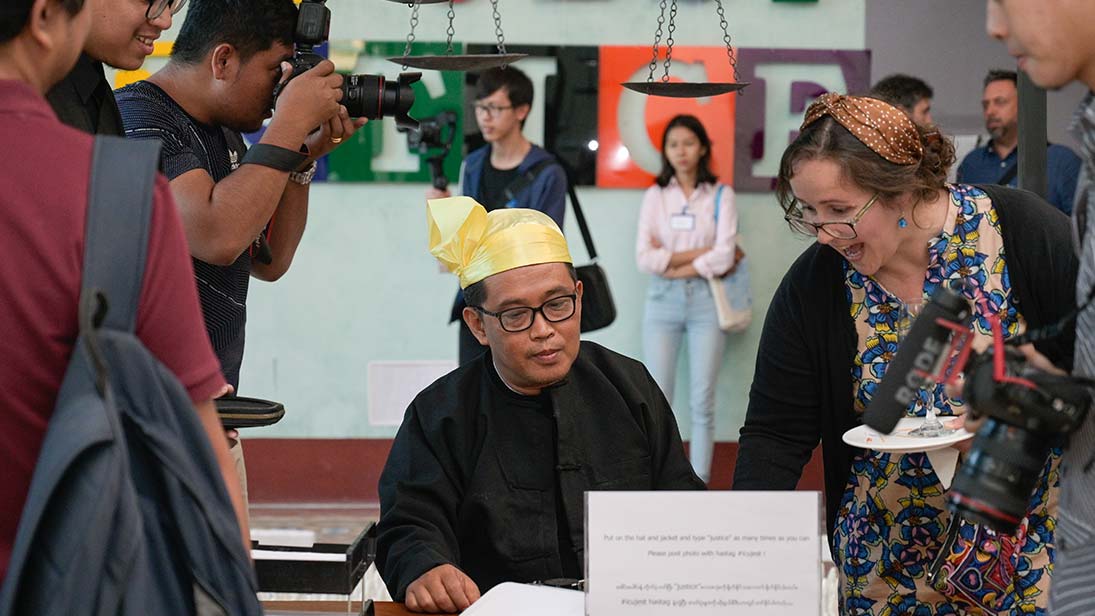 Performance, installation artist and WOMYN NOW founder Emily Phyo's multimedia installation of photography and video addressed being a woman in Myanmar. Emily interviewed fifteen women around the city, asking them to share their positive or negative experience, using specific examples and the triangular mirror that reoccurs in her work.
Maung Yu Pie's poem laments the gap between rich and poor, the lack of strong institutions and the lack of pride in place, and that without freedom of expression there is a void of interest in culture. Justice is not only about the law but about freedom to live life freely, with choices, with intellectual curiosity, with means of expression.
Yangon artist Kaung Su's neon work "History/Story' takes from the WIll Durant statement: 'History is mostly guessing; the rest is prejudice.' It asks us to reflect on the crucial yet questionable roles of evidence and testimony.
Accompanying this were a series of five films produced by Platform telling stories of change as seen by individuals that were connected to the MyJustice programme. An animation made by Bridge and produced by Tea Animation retold the testimony of a woman's experience of the law and the difficulties accessing justice as a sex worker.
The artist Htein Lin made a short performance on the night, and during the two week run there were further performance nights run by the CSOs Colors Rainbow, Braveheart, ActionAid and United ACT.