2016 Rule of Law Index discussion hosted by MyJustice Programme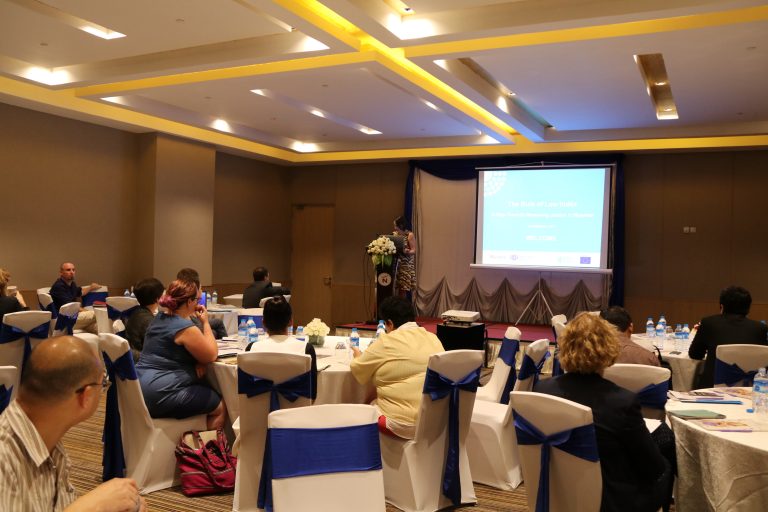 On February 20, 2017, MyJustice hosted a discussion on the 2016 Rule of Law Index, an important tool developed by the World Justice Project (WJP). The WJP is an independent, multidisciplinary organization working to advance the rule of law around the world. WJP Executive Director Juan Botero gave an introduction to the Rule of Law Index, which measures how the rule of law is experienced in practical, everyday situations in 113 countries and jurisdictions. Myanmar has been included in the Index since 2014.
Forty-nine participants joined the discussion at the Novotel Max Yangon. Botero explained the Index methodology, which draws on quantitative household surveys and in-country expert interviews on 44 different indicators related to eight Rule of Law factors, including Civil Justice, Criminal Justice, and Fundamental Rights. Additional information is gathered on informal justice system experiences. Botero also shared advocacy and reform success stories from Canada to Malawi to Indonesia.
MyJustice Team Leader Caitlin Reiger said, "The Rule of Law Index is a tool and it is up to all of us to think about how it can be used to the greatest effect."
The talk was followed by an open forum, where representatives from INGOs, NGOs, academia and the legal community discussed how to use the Index findings alongside other measures of the justice system to promote "home-grown" rule of law policies and culture.
More information on the Index, including how Myanmar compares to other countries, is available online at www.worldjusticeproject.org/rule-of-law-index