A new Justice Centre launched in Hpa-An!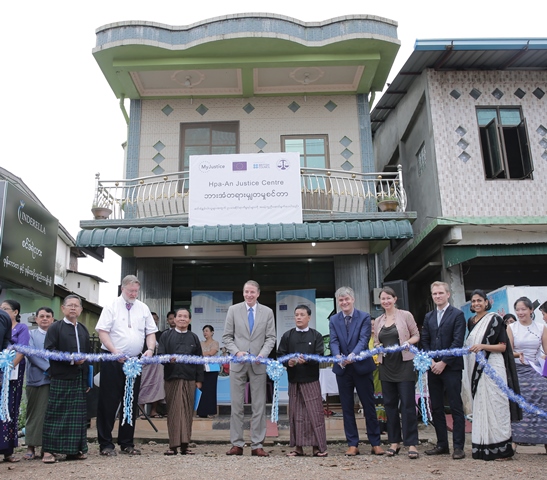 MyJustice in partnership with International Bridges to Justice (IBJ), opened a new Justice Centre in Hpa-An on the 27th of September 2017, to strengthen access to justice in Kayin State.
"Justice Centres inform some of Myanmar's most vulnerable communities about their rights and offer legal aid where it is most needed. Knowing your rights and how to defend them is essential for democratic progress, especially for a society in transition like Myanmar. I am therefore pleased to see the network of EU-funded justice centres growing across the country," said Ambassador-designate of the European Union to the Republic of the Union of Myanmar, Mr. Kristian Schmidt.
Since 2015, MyJustice has supported Justice Centres in Yangon and Mawlamyaing to provide free legal representation for more than 2,395 people and legal advice to more than 1,372 people. These Justice Centres provide legal aid across 24 Township Courts, five District Courts, the Yangon Region High Court and the Mon State High Court, and the Union Supreme Court. In 2017, MyJustice further expanded the Justice Centre programme to Mandalay Region, Shan State, Bago Region and Kayin State. The expansion will allow the programme to reach the poor and marginalised in greater numbers.
"As we have seen over the past two years, demand for affordable justice services continues to grow and Justice Centre services have been welcomed by the communities. We are seeing that courts and the police also recognise the importance of these services, and are increasingly referring the poor to the Justice Centres. We are pleased to support the expansion of the Justice Centre services to Hpa An, so that the communities can access lawyers when they need it,' said Caitlin Reiger, Team Leader of MyJustice.
"These Justice Centres are an important step towards implementing the right to a defence, found in the Myanmar Constitution. Early access to a lawyer in criminal prosecutions helps the poor, the marginalised, children and youth who have little or no understanding of the system. Access to lawyers makes the criminal justice system work better for everyone," said Karen Tse, Founder and Chief Executive Officer of IBJ. "This initiative in Myanmar also offers a tremendous opportunity to improve collaboration among lawyers representing the poor around the world."
The opening of the Hpa-An Justice Centre follows the successful recent launch of new Justice Centres in Mandalay and Taunggyi, which are already providing free legal representation, advice, and assistance to the poor and creating public awareness and understanding of rights and responsibilities under law. Together, the Justice Centres work with lawyers to strengthen their legal skills and practice, and will develop greater communication and collaboration between legal professionals, civil society and government stakeholders.
"Lawyers in Myanmar will have an opportunity to participate in this programme to provide representation to the poor," said advocate U Hla Ko, Senior Legal Advisor to IBJ and member of the government's Coordinating Body for Rule of Law Centres and Justice Sector Affairs. "This project and the collaboration between MyJustice and IBJ will help us learn lessons that can be used to implement Myanmar's new Legal Aid Law. This is a great opportunity for us all."