Community Based Dispute Resolution Forum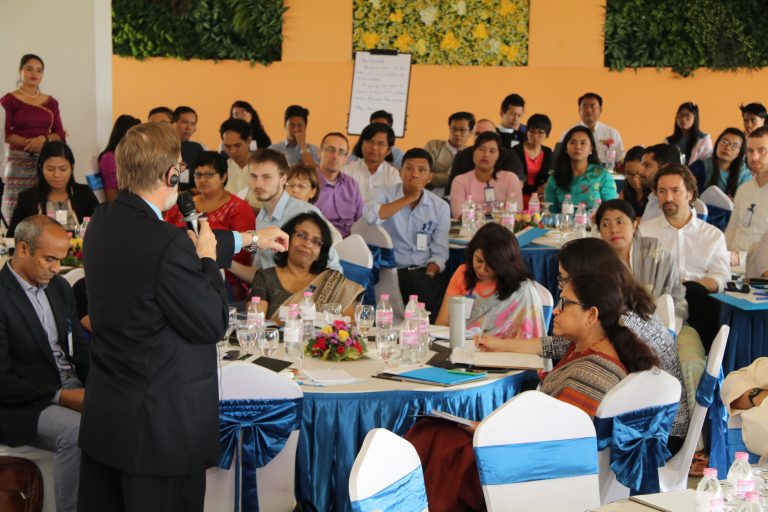 MyJustice and The Asia Foundation (TAF) co-hosted a forum on Community Based Dispute Resolution with experts from regional countries including Cambodia, Sri Lanka, and Nepal on 23 February 2017 at Rose Garden Hotel in Yangon.
Caitlin Reiger, MyJustice Team Leader, opened the event emphasizing that "In Myanmar, many people do not approach the formal justice system at all, so mediation at the community level is an important component of resolving disputes." Dr. Kim N. B. Ninh shared some of the Asia Foundation's years of experience supporting successful mediation programs and welcomed expert colleagues from Sri Lanka, Nepal, and Thailand.
The forum will explore learning from a variety of Asian experiences, drawing on practitioner input from Myanmar and countries in the region. For example, in Sri Lanka, local Mediation Boards hear 200,000 cases per year. In Nepal, a Mediation Council helps to resolve local disputes in the multicultural society. In many cases, NGOs and local community members started mediation programs, and then later the government took ownership and crried out larger implementation.
Eighty participants including experts and scholars from INGOs, NGOs, CSOs and regional countries joined the orientation workshop and discuss the contribution of community based dispute resolution mechanisms to increasing access to justice for the poor and other marginalized communities in South & East Asia.
Comparing and contrasting different approaches to community based dispute resolution in South and East Asia and considering the applicability of lessons learned from South and East Asia for Myanmar context are the main aspects to discuss during the event.
Lise Dahl, Senior Adviser for Asia at the Danish Institute for Human Rights, discussed the dispute resolution experience in Cambodia, emphasizing how important it is to balance strong mediation skills with cultural expectations and norms regarding social harmony.
TAF Sri Lanka Country Representative Dinesha de Silva discussed how the Sri Lanka system drew on a culture of mediation to "grow into a successful system in every division in the country, accepted and valued by all communities." One technique Sri Lanka used to overcome lawyer skepticism was to facilitate site visits for law students to see how mediation worked in practice.
The majority of people in Myanmar, in common with many other countries, cannot, or do not, use the formal justice system to address their grievances and injustices.
The PowerPoint presentations from Community Based Dispute Resolution forum are available to download at the following links.