Deputy Township Staff Officers are on the path to change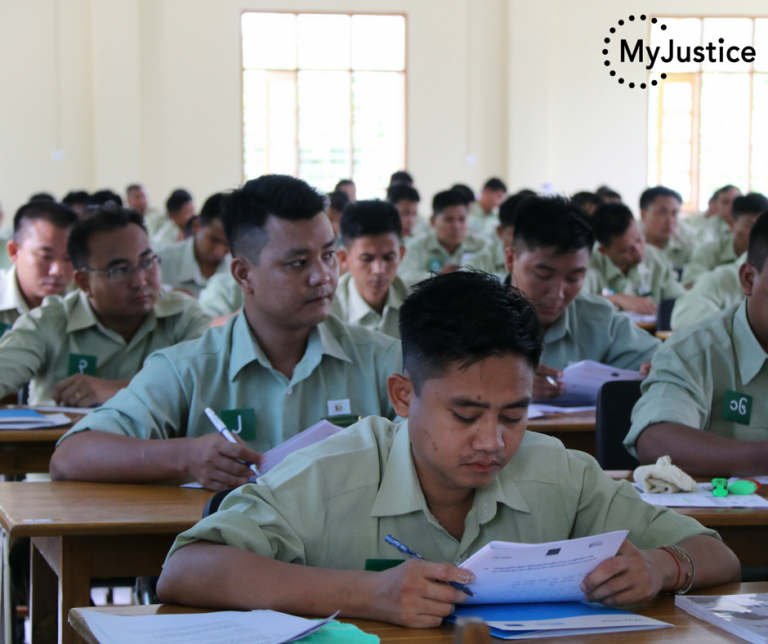 "I'm very interested in the difference between 'Rule of Law' and 'Rule by Law'," said U Zaw Moe, deputy staff officer from Waw Lay Town in Myawaddy district in Myanmar.
U Zaw Moe was part of a two-day training session last month for 234 Deputy Township Staff Officers (including 51 women officers) on rule of law as well as on access to justice through dispute resolution at the Institute of Development Administration (IDA) in Yangon. The training is part of a larger series on Rule of Law and Dispute Resolution provided by MyJustice and its partner Mercy Corps through a partnership with the United Nations Development Programme (UNDP) and the Myanmar General Administration Department (GAD). Over the course of 2017 and 2018, all GAD Deputy Staff Officers will complete the programme – about 1200 in total – as part of the GAD annual training programme. Recent research from MyJustice and others indicates that local officials are a critical stop for many justice-seeking Myanmar people. This training aims to improve the dispute resolution skills of officials who are either called upon to settle disputes or are involved in training the Ward/Village Tract Administrators who then resolve disputes at the community level.
Another participant, U Tin Maung Win, deputy staff officer from Paung Township in Mon State, said that he will share the dispute resolution methods he learned from the programme with 57 ward and village administrators in his Township. "I meet with [ward and village administrators] twice a month to discuss community development issues and to share updated information regarding administrative mechanisms," he said.
U Zaw Moe said that Interest based negotiation skills and Rule of Law awareness raising training provided by MyJustice is unique and very crucial for him. He believed that Rule of law is a very crucial step for community development especially economic development, education development, and peace process.
The Rule of Law trainings linked key concepts like human rights, justice, security, and rule of law with the Myanmar Constitution. Participants discussed the roles and responsibilities of public officials and their relationship to community members, including what assumptions and challenges factor into dispute resolution. The framework for interest-based negotiation offers many shared tools for improving communication and reaching a shared resolution.
The training was received well by participants and marked the beginning of a longer-term cooperation between the GAD, UNDP, MyJustice, and Mercy Corps to support capacity development of GAD officials in Myanmar.