Justice and rule of law confirmed as national priorities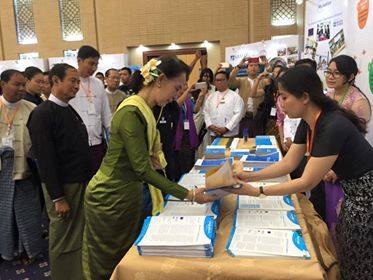 On March 7 and 8, the Union Coordinating Body for Rule of Law Centres and Justice Sector Affairs held a major conference on Justice Sector Coordination for Rule of Law at the Myanmar International Convention Centre 2 in Nay Pyi Taw. The conference was attended by over 400 representatives of regional and state justice sector coordinating bodies, civil society, lawyers and international development partners.  State Counsellor, H.E Daw Aung San Suu Kyi and the Union Attorney General gave keynote speeches at the conference a, along with international guest speakers Sir Jeffrey Jowell QC and Dr Diani Sadiawati. MyJustice live streamed their speeches.
"In formulating our national justice strategy, we should take into consideration the use of mediation in resolving disputes systematically and the development of various modes of alternative dispute resolutions" said Daw Aung San Suu Kyi, State Counsellor at the conference. She also highlighted the importance of judicial independence, fighting corruption and that everyone accused of a crime should have early access to lawyer.
The Union Coordinating Body plans to use the final conclusions and discussions on various thematic issues, as the foundation for a national strategy for rule of law sector reform.
The Union Attorney General said that "everybody must be equal under the law, there must be no discrimination based on gender, wealth and authority. The law is respected by everyone and there must be responsibility and accountability. On the other hand, the judiciary must be independent. Only then can the Judge can decide freely and impartially in accordance with the law in a fair trial."
MyJustice's Maung Maung Nyein Chan presented the findings from the recent MyJustice national survey, in a lively panel discussion that focused on research and evidence about the state of the justice system. MyJustice also supported a Justice Fair in which a range of organizations working for justice reforms, including several MyJustice partners showcased their projects and publications to conference participants.
"Establishing Rule of Law and Justice is a priority for the country. We have so many challenges and we want the government to take action in the Rule of Law Sector (in a way that) that responds to our realities," said U Khin Maung Win, Chair of the Justice and Legal Affair Committee (Pyithu Hluttaw).
The Union Coordination Body was formed in February 2017 with 17 members including Ministry of Home Affairs, the Supreme Court, National Human Rights Commission, CSO representatives, Parliament members, Professors and Advocates, under the purview of Union Attorney General, H.E. U Tun Tun Oo. MyJustice team leader, Ms Caitlin Reiger, serves as an advisor. The Union Coordinating Body established Sub Coordinating Bodies in each region and state, to better understand local justice needs. The conference was the first time all members came together to review progress and next steps.
U Zaw Min, the Chair of the Bill Committee (Amyotha Hluttaw) said that the Coordinating Body has in its ranks MPs like us. This coordinating body allows me to be in touch with key decision makers from other departments.