MyJustice Hosts Policy Forum with Myanmar Research Institutes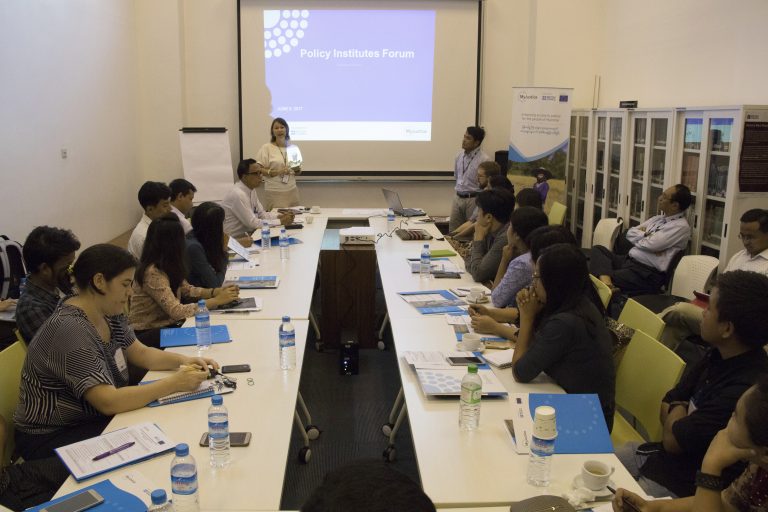 For decades, policy-making in Myanmar was marked by top-down, closed-door processes. Central bodies tasked Ministries and sub-national officials with implementing policies, rather than providing input or testing new concepts. Today, new entry-points for policy engagement and new policy advocacy actors are shifting the possibilities for more inclusive, evidence-based policy development. On June 6, 2017, MyJustice hosted representatives from fifteen research institutes and civil society organizations for a Policy Forum at the British Council.
MyJustice opened the forum with a briefing on the changing justice policy landscape, including an introduction to the new Rule of Law Centres and Justice Sector Affairs Coordinating Body. This initiative is led by the Attorney General to provide oversight and coordination functions nationwide. The seventeen members include representatives from the Union Attorney General's Office, the Ministry of Home Affairs, the Chief of Police, the Union Supreme Court, the General Administrative Department, the National Human Rights Commission, academia, law, and civil society. MyJustice Policy Engagement Manager U Phe Aung discussed examples of Region and State Parliament's setting up new committees and oversight activities in response to citizen complaints.
U Nyi Nyi Aung from the Access to Justice Initiative (A2JI) Steering Committee led group discussions comparing and contrasting research and analysis in the justice sector to other topics. Participants agreed that CSOs often must eventually deal with justice and legal issues in their work no matter what their focus area. Daw Wai Phyo Myint, Manager of Myanmar Centre for Responsible Business (MCRB) said, "Even though my organization is not focusing on rule of law and justice issues, I believe that we can use MyJustice's work as a platform when we do advocacy by using evidences and information contributed by the MyJustice programme."
The group agreed that public debate around injustices on social media and filing complaints with the authorities show increasing trust and expectations in the government. Thwin Lwin Aung, Director of Genuine People's Servants (GPS) and Vice-President of the A2JI said, "I learnt the challenges and experiences of others as well as different perspectives and approaches. We need to sort out justice issues together."
Daw Thin Zar Oo, Programme Director of the Public Legal Aid Network (PLAN) said "We must be careful to not use old policy concepts in our new advocacy approaches…It would be great if MyJustice could provide more information, like how to write a policy brief." MyJustice will soon launch a strategic guidance note for policy engagement and is currently developing a policy brief toolkit. We welcome input in these processes – please contact us through our website or Facebook.