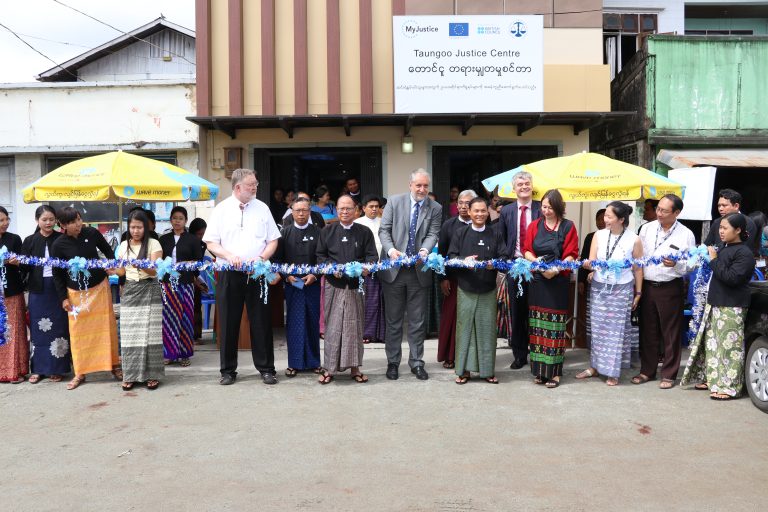 MyJustice, in partnership with International Bridges to Justice (IBJ), opened a new Justice Centre in Taungoo on the 18th of October 2017, to strengthen access to justice in Bago Region.
"We are pleased to open a new Justice Centre in Taungoo today," said Dr. Johann H. Hesse, Head of Cooperation for the European Delegation to Myanmar. "Knowing rights and how to defend them is essential for all people, especially those coming from the most vulnerable communities in Myanmar. The Taungoo Justice Centre will help people in need to learn about their rights and will assist in defending them. Access to justice is an important human right that the European Union values greatly."
Since 2015, MyJustice has supported Justice Centres in Yangon and Mawlamyaing to provide free legal representation for more than 2,395 people and legal advice to more than 1,372 people. These Justice Centres provide legal aid across 24 Township Courts, five District Courts, the Yangon Region High Court and the Mon State High Court, and the Union Supreme Court. MyJustice has partnered with International Bridges to Justice (IBJ) to expand the Justice Centre programme to Mandalay Region, Shan State, Bago Region and Kayin State. The programme can now reach far more people who are poor, marginalised and need of legal assistance.
"Demand for affordable justice services continues to grow, as demonstrated by the positive community reception to each of the six Justice Centres that are now open. We are delighted to bring these services to Taungoo as well. As the District Court here is already piloting new systems to improve public trust, we look forward to excellent collaboration to ensure that the poor and vulnerable are able to access lawyers before they come to court," said Caitlin Reiger, Team Leader of MyJustice.
"These Justice Centres are an important step towards implementing the right to a defence that is recognised in Myanmar's Constitution. Early access to a lawyer in criminal prosecutions helps the poor, the marginalised, children and youth who have little or no understanding of the system. Access to lawyers makes the criminal justice system work better for everyone," said Karen Tse, Founder and Chief Executive Officer of IBJ. "This initiative in Myanmar also offers a tremendous opportunity to improve collaboration among lawyers representing the poor around the world."
The recently launched Justice Centres in Mandalay, Taunggyi, and Hpa-an have already provided free legal representation, advice, and assistance to eighty-two vulnerable people in their communities in August. The MyJustice-supported network of Justice Centres work together with lawyers to strengthen their legal skills and practice, with civil society to improve legal awareness, and with government officials to improve justice policy.
"Rule of law is essential to the development of a democratic society and the development of the state," said the Chairman of the Union Rule of Law Centres and Justice Sector Affairs Coordination Body, Union Attorney-General His Excellency U Tun Tun Oo. "A community with rule of law can achieve peace, stability and development. Rule of law can be improved only when everyone has access to justice. Justice Centres are hugely beneficial to the state and people."