New Justice Centres Set to Open in Mandalay Region and Shan State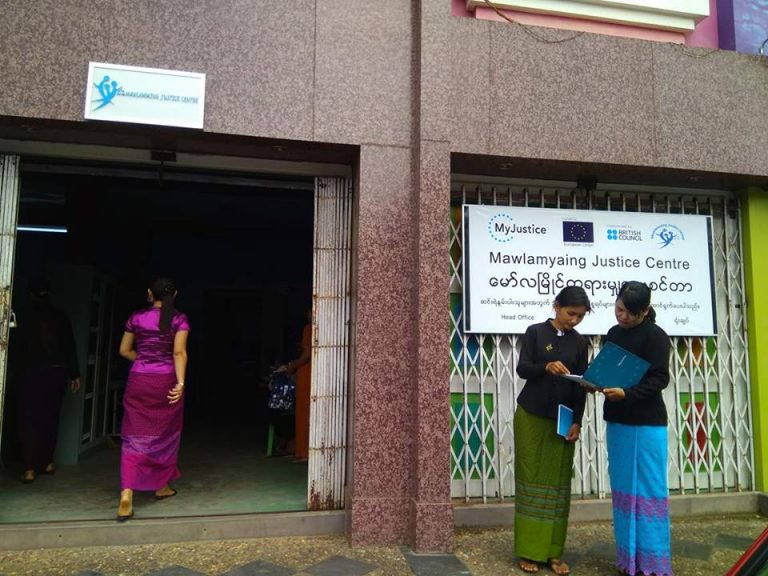 MyJustice will launch two new Justice Centres in Mandalay Region and Shan State on 24 and 25 July 2017 with the purpose of providing legal aid to the poor in partnership with International Bridges to Justice (IBJ).
Since 2015, MyJustice has been supporting the Yangon Justice Centre (YJC) and the Mawlamyaing Justice Centre (YJC) to provide legal representation to more than 2,395 clients and legal advice to an additional 1,372 clients.
The work of YJC and MJC has resulted in significant achievements, including important changes in behaviour amongst institutional stakeholders in support of greater access to counsel for poor people accused of crimes, increasing demand from vulnerable communities for free legal services, and providing legal representation to an increasing number of people without a concurrent increase in costs.
Building from these foundations, and learning from past experiences and challenges faced in operationalising free legal aid for the poor in Myanmar, MyJustice has partnered with International Bridges to Justice (IBJ) to establish new Justice Centres to provide free legal aid to the poor in Mandalay Region, Shan State, Bago Region, and Kayin State.
With the goal of establishing Justice Centres as a valued and inclusive resource for clients, lawyers, and communities, IBJ will collaborate with the local legal community to provide cost-effective legal aid and representation to indigent and marginalised criminally accused, to enhance the skills of legal professionals to represent individuals in the criminal justice system, to raise community awareness of their rights, and to enable greater communication and collaboration between criminal defenders and justice stakeholders in government.
In addition to learning from the existing Justice Centres, (IBJ)'s approach to the establishment of new Justice Centres draws upon discussions with lawyers, government officials, other justice sector stakeholders in Myanmar, as well as IBJ's substantial experience in establishing legal aid services globally and in the region. The Justice Centres expansion is part of MyJustice's broader efforts to expand rights awareness and access to justice in Myanmar.
The launch of the new Justice Centres will kick off with a national training event for more than 100 local lawyers on 26-28th July. In addition to building lawyers' practical and conceptual legal skills, the event aims to galvanise and motivate lawyers to strengthen their commitment to legal aid and pro bono practice. The event will also launch the Myanmar Defenders Community of Practice, a platform to mentor and train lawyers throughout Myanmar to provide high quality legal representation to indigent and marginalised people.