Over 20 CSOs Join our Partner Orientation Workshop to Kick-off 12 Community Justice Projects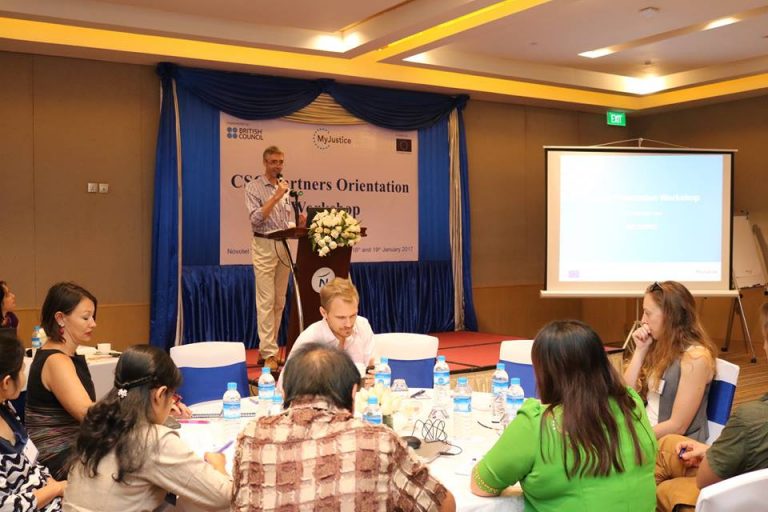 MyJustice hosted a grant orientation workshop for 12 CSO partners at the Novotel Yangon Max on 18 and 19 November 2017 in Yangon. The orientation ensured partners are familiar with MyJustice's broader programme strategy, and focused on strategies for collaboration and learning between partners to contribute to the overall programme goals. Fifty-six participants from 12 CSO partner grants and 12 sub-grantees joined the two-day workshop.
In the 18 November morning session, partners introduced themselves and their activities, and then worked together to brainstorm ways to overcome potential challenges and common constraints. MyJustice discussed the technical support available for the delivery of their projects and facilitated networking sessions to ensure learning across projects.
The CSOs' activities, which will cover 25 townships in Yangon Region and Mon State, will support up to 50,000 poor and vulnerable people to better understand their fundamental rights and to access justice. Projects will work across a range of important justice issues that were highlighted in our recent Access to Justice Report, including land and property rights, workers' and labour rights, children's' rights and juvenile justice, women's rights and gender justice, and LGBT rights.
Caitlin Reiger, MyJustice Team Leader, delivered the opening remarks. "A core principle of MyJustice is learning alongside our partners to create solutions for people's access to justice. We are excited by the expertise and proposed activities of the organizations in the room, and we look forward to close collaboration going forward," she said.
Daw Khin Than Htwe, regional chairperson of Mon State Women and Children Upgrade Conduct Organization said, "I thought my project is really big before I realized that there are many organizations who are working in the legal justice sector from different aspects at this event. When I know about the programmes and projects conducted by other partners and the ways they implement their projects, I can decide how I can cooperate with them. As a result, I can avoid overlapping activities with other partner who are working in same area."
U Min Win Bo, regional coordinator of the Local Resource Centre said, "Knowing the projects of other partners and the ways of their implementing inspires me to cooperate with them in not only project activities but also monitoring and evaluation processes."